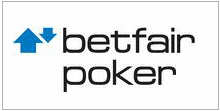 Visit Betfair Poker Now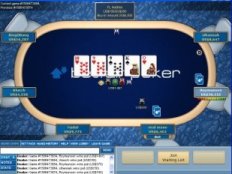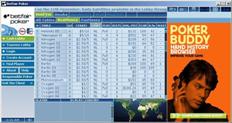 Betfair Poker Highlights
8.6
/10

One Of The Highest Poker Room Sign Up Bonuses Online
Play Poker, Casino Games Or Sports Betting From 1 Single Account
Very Easy To Multi-Table - Up To 24 Tables At Once !
(Note: Betfair Poker Does Not Allow U.S. players)
Betfair Poker Languages Supported:










If you are looking for a poker room where you can find both live games and tournaments around the clock than Betfair Poker may be the place for you! Unlike many of the online poker rooms today, Betfair Poker is an independent poker room meaning that is not a part of the more recent poker networks. This can be a bonus when considering how hard it can be to sit at a table at one of the other poker rooms that are a part of a poker network.
The software used at Betfair is unique and privately designed and created. You will find that the software is not only pleasant on the eyes and ears, but also the mind being easy to navigate and amazing functionality. There are many great features you will come across while playing at Betfair including the common features such as the ability to keep notes on other Betfair poker players and to check player statistics. You will also be able to multi-table, where most sites only allow 4 or 5 tables at a time you can play at up to 15 different tables at the same time and view them in 'mini-view'. You may also be pleasantly surprised with the 'player buddy program'. This Betfair feature allows you to see your recent hand history, analyze and learn from it as well as being able to replay recent hands.


Betfair Poker Sign Up Bonus
There are tons of promotions always going on at Betfair's Poker room besides the great deposit bonus. Not to say that the deposit bonus is anything shabby.

150% up to $1500/£750/€1000 Bonus

Use Bonus Code PO1500

Weekly $55,000 Guaranteed and Daily Free rolls
If you want to just buy in straight to the tournament, you can, for $390+10, or you can register and play in one of the daily free rolls that are satellites to the weekly Sunday tournament. Every day of the week you will have the chance to get in this great weekly tournament for free by qualifying in any of the weekly free rolls, so in all reality, the best things in life can be free, you can win part of the $55,000 guaranteed prize pool from starting at free tournament, you know what that means, all profit!
If you are a little low on cash, but still want to play, you can register to play some of the more than 30 weekly free rolls available in Betfair's Poker room. They are easy to register for and because they are free, there are plenty of fishies to play with and against.


Betfair Poker Player Traffic
As mentioned earlier, Betfair Poker is an independent Poker room and does not share it's player base with any other online poker rooms. Some people may see this as a negative thing because that means less traffic than online poker rooms that are a part of a network. However, even as an independent poker room, Betfair keeps it's traffic in the middle, not the highest, but far from the lowest. During peak hours you can expect to find more than 4,000 players registered and playing tournaments and nearly 1,500 ring table players. (Keep in mind these are real money player stats.)


Betfair Poker Deposit / Withdrawal Options
Betfair offers quite a few ways to deposit into your Betfair real money player account.

Deposit Methods: Visa, Visa Electron, Visa Delta, MasterCard, Maestro, Solo, Laser, NAB (National Australian Bank), NETeller, MoneyBookers, PayPal, Click and Buy, Bank Transfer, Same Day Bank Transfer, International Bank Transfer, Western Union and Checks
Withdraw Methods: Visa, Visa Electron, Visa Delta, MasterCard, Maestro, Solo, Laser, NAB (National Australian Bank), NETeller, MoneyBookers, PayPal, Bank Transfer, Same Day Bank Transfer, International Bank Transfer, and Checks.

Fantastic That Betfair Accepts Paypal Deposits / Withdrawals
Betfair Poker Customer Service
If you have questions regarding Betfair Poker room, you can go to the help tab on their home page and it will take you to a new window with lots of options for you to choose from. There is a very informative FAQ sheet with all of the most commonly asked questions from Betfair poker players.
If for some reason you are unable to find a solution to your dilemma, no need to fret. There are many ways to contact the Betfair customer support team. You can send an email to the support desk and can expect a response within 4 hours. If you prefer to get help over the phone, you can do that too. There are 7 different areas which Betfair offers telephone numbers for where you will find help 24/7. If this method of customer service does not work for you either, there is one more option for you. You can snail mail them a letter. Their mailing addresses are also available on the Betfair help page.

Visit Betfair Poker Now